Gorges
COBBOLD GORGE - A jewel in the Gulf Savannah crown
Deep in the heart of the Gulf Savannah region of Far North Queensland located on the 1284 square kilometre family owned "Robin Hood" cattle station is a hidden outback oasis - Cobbold Gorge. Immerse yourself in the natural wonder of a truly unique North Queensland outback holiday destination.
Cobbold Gorge, discovered in 1992 by Simon Terry, is a spectacular, narrow, spring fed gorge, hidden within rugged sandstone formations occupying an area of about 80 square kilometres. In 1994 Simon and Gaye Terry began Cobbold Gorge Tours, which allows visitors to cruise the gorge to explore its ancient geological landforms and the savannah wonderland on a guided tour. Discover Cobbold with its North Queensland wildlife, go bushwalking or birdwatching, or just relax and enjoy the modern comforts of Cobbold Village.
90kms South of Georgetown, Cobbold Village offers unparalleled accommodation, RV, caravan and camping friendly facilities, full restaurant, licensed bar and our famous infinity swimming pool.
To protect this unique North Queensland environment, access to Cobbold Gorge is by guided tour only.
Please note Cobbold Gorge and Cobbold Village is open from 1 April (or Easter if earlier) to 31 October annually.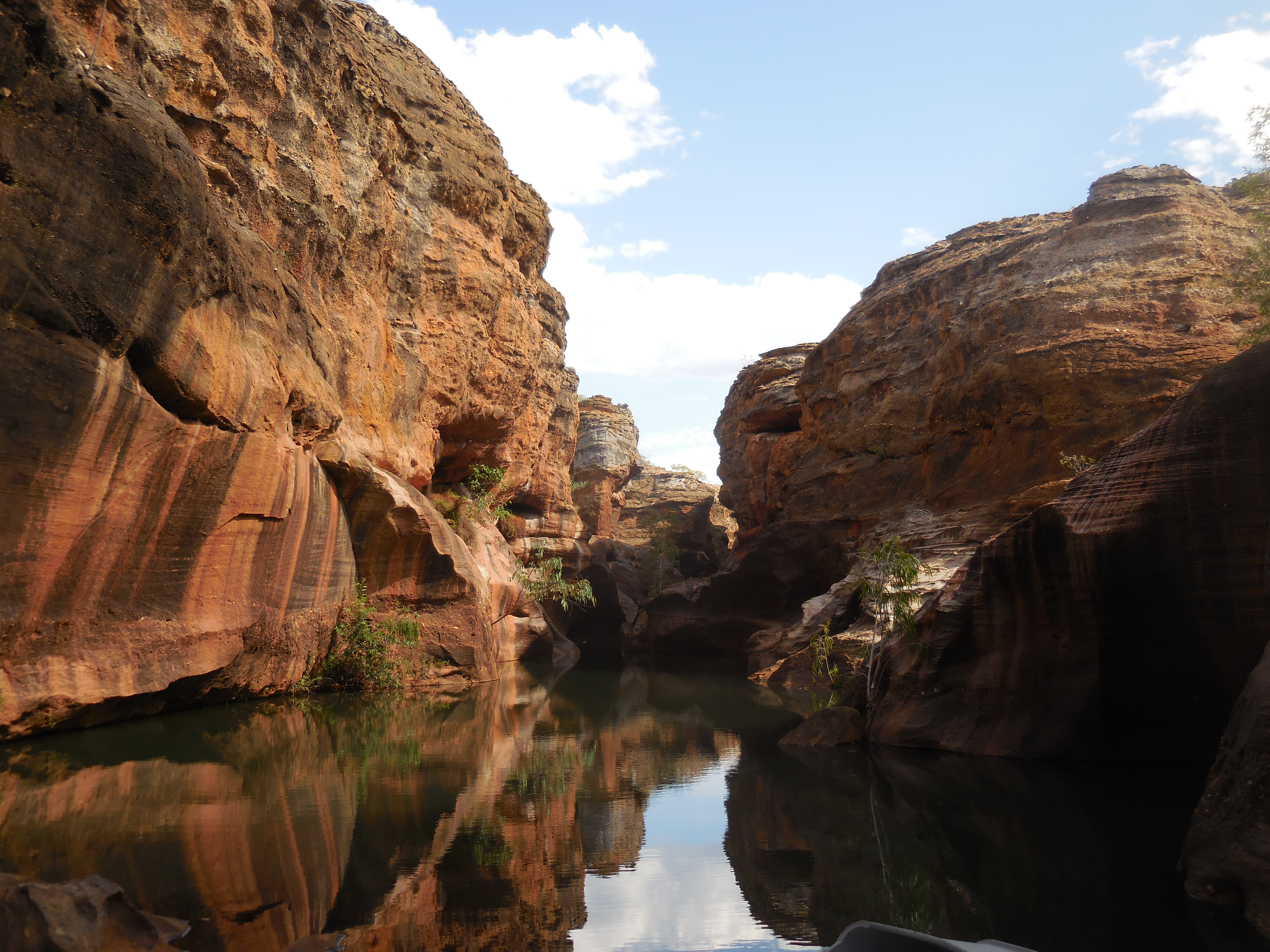 View more information about Cobbold Gorge.
History: Cobbold Gorge was created by a series of geological processes. Sand and mud sediment was deposited on what was then the ocean floor until eventually these layers built up to be more than 10 kilometres thick. Movement in the Earth's crust caused the sediments to compress, forming the Hampstead Sandstone. Further movement caused the sedimentary rock to fracture and uplift 200m. Torrential, wet seasons over many years spilled torrents of water through the narrow fractures, creating deep gorges and permanent springs and seepages. The walls of the gorge have been scalloped and polished by the gravel and sand brought down by floods.Minor movement in recent times (estimated to be 10,000 years ago rather than millions!) have contributed to the formation of the lower reaches of Cobbold Gorge as it is today. This spectacular, narrow, spring fed gorge is hidden within these rugged sandstone formations occupying an area of about 80 sq km in outback North Queensland (same land area as Wilpena Pound S.A).
COPPERFIELD GORGE - Einasleigh River
Situated alongside the Einasleigh Township, Copperfield Gorge is breathtaking to behold with the gorge's sheer walls dropping into a sandy river bed revealing the lava flow layers. This is a popular swimming spot for locals around the region who often make day trips out of a visit to Einasleigh. This attraction is open to the public free of charge, however, tours that share the fascinating history of the gorge and Einasleigh township can be booked through Bedrock Village Caravan Park & Tours, Cobbold Gorge Tours & the Savannahlander.