Gems
North Queensland's Premier Mineral and Fossil Museum

View more information around Ted Elliot Mineral Collection.
Tucked away safely in the Terrestrial Visitor Information Centre is one of North Queensland's best kept secrets. The TED ELLIOTT MINERAL COLLECTION consists of over 4,500 specimens - a remarkable display of the varieties in shape, structure and colour produced by nature in minerals from all over the world. The collection uniquely highlights minerals and gemstones of North and Northwest Queensland provenance, including gold - the Providence Nugget and the Devlin Nugget, along with one of the largest quartz crystals in any Australian collection, weighing in at 250kg. Included in the display are fossil specimens comprising fish vertebrae, bivalve shells, ammonites, toredo, crinoid and nautilus as well as opalised and petrified wood, many of which were discovered in North Queensland. For rock hounds keen to unearth some gemstones themselves, the collection showcases much of the variety of specimens to be found within the designated fossicking fields of the Shire of Etheridge. Renowned as Georgetown's 'Must See' attraction, drop in and discover the wonder of Ted Elliott's Collection.
Fossicking at O'Brien's Creek
O'Brien's Creek Fossicking Area is known mostly for its Topaz, however, Aquarmarine, Rock Crystal, Smoky Quartz, Citrine and Cassiterite can also be found in the same area. To get there from the township of Mt Surprise, cross the railway track and head northwest along O'Brien's Creek Rd about 37km to cross Elizabeth Creek. Follow the signs to the fossicking area along the road for a further 1.5km, passing Diggers Rest about 200m before the main entrance sign. The gravel road to O'Brien's Creek may become impassable in wet weather and care is required on black soil sections. Flooding of creeks and gullies occurs during the wet season so please check local conditions via the Council website before setting out.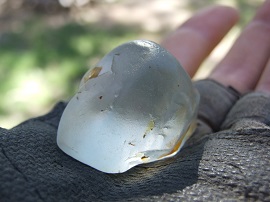 Camping is not permitted in the fossicking area however, the O'Brien's Creek Campground situated nearby on Mt Surprise Station allows camping for a small fee. The campground is adjacent to Elizabeth Creek, has basic toilet and hot shower facilities, is pet-friendly and while there is no power at the site, campers are welcome to bring generators. " "Beautiful place, clean showers and toilets. Incredible natural swimming creek and lots of nature surrounding!" Laura D. Fossickers intending to camp or purchase a fossicking licence at O'Brien's Creek should call 4062 3001 prior to arrival. At Mt Surprise there are also several accommodation options available.
Fossicking at Flat Creek Station
Flat Creek Station is a working cattle property that has opened its gates to the public for camping, detecting and bird watching. Although there are no powered camps, there are toilet and shower facilities on site as well as water access. Flat Creek is renowned as an ideal location for gold detecting, agate fossicking and for the many species of birds that congregate around their dams including the rare Gouldian Finch. On arrival, you can register your stay at the homestead. For more information or to book call 07 4062 5304.
Agate Creek Fossicking Area
About 70kms drive south of Forsayth, you'll find one of the premier fossicking locations for unearthing world-renowned agates of superb colours and patterns. Also commonly found in the area are Thunder Eggs, Quartz, Citrine and Amethyst Crystal. Fossicking licences are required and access during the dry season is by gravel road and high clearance vehicles are recommended. Camping is not permitted in the fossicking area however the landholders, David & Dot Terry, allow camping nearby at the Agate Creek Camping Ground, situated adjacent to Agate Creek outside the fossicking area. Facilities there include ablution blocks, with septic toilets and showers (with hot water donkey) for camper's convenience. There is no power available on site however, water is supplied by a bore and suitable for drinking. While staying in the Camping Ground persons need to Register by completing Camping Voucher at the Honesty Box near the Grid on entry. Even if you are not interested in fossicking, there is plenty to enjoy with the outback camping experience, its scenic views and wildlife. Contact David & Dot Terry at oldrobinhood@skymesh.com.au or phone 07 4062 5355 to make an enquiry or booking.
For more information on Fossicking Rules and Licences visit FOSSICKING IN QUEENSLAND proudly brought to you by the Queensland Government.